Kitchen and Bathroom Remodeling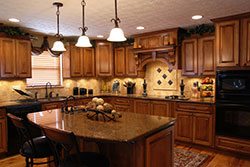 Are you looking to remodel your kitchen, bathroom, basement or family room? Do you live in the South Chicagoland area?
T. Davis Remodeling & Construction, Inc., has 38 years of experience refurbishing worn-out and outdated rooms.
Our Values
As a lean, family-owned and run remodeling business, we offer our clients unrivaled personal service and dedication to functional and attractive renovations.
Our philosophy is to use smaller crews to minimize messes and maintain a high standard of quality. This also allows you to feel comfortable sharing any questions and concerns with us throughout the remodeling process.
Upgrade Your Kitchen or Bathroom
T. Davis Remodeling has executed hundreds of renovation projects for homeowners living in Manhattan and nearby cities, and we look forward to many more successful transformations.
Our kitchens are modern and clean and will add function and value to your home. Our bathrooms are natural and bright with detailing that will leave you thrilled. We also do basements, family rooms and closets – any home renovation you can think of, we can build.
Start Your Home Renovations Today
Interested in remodeling your kitchen? Contact us through the web form or call 815-693-1250.
Kitchen and Bathroom Remodeling Contractor | Manhattan, IL
Joliet, New Lenox, Frankfort, Mokena, Homer Glen, Orland Park, and Elwood